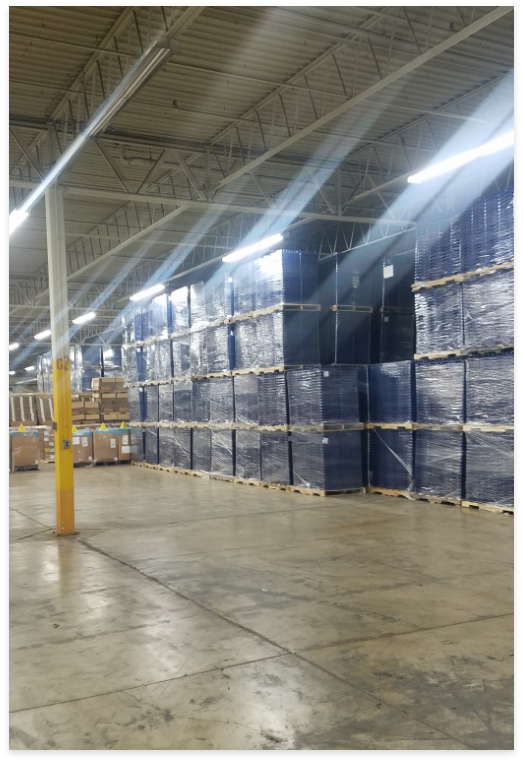 WAREHOUSING
Overview of Our Warehousing Services
Integrated storage and distribution solutions.
Our warehousing services offer reliable and cost-effective solutions to help you with your storage needs. Our modern facilities, staffed by professionals provide a secure environment for storing items of all types, such as inventory fulfillment orders or stock management. We understand that each client's requirements are unique so we can craft the perfect solution tailored specifically to meet those individualized needs – be it short term or long term. Contact us today to learn more about what our warehouse offerings have in store for you!
Our warehousing services include:
Pick and Pack:

We will meticulously package your goods in compliance with your specifications.

Stock Management:

Our team will monitor your inventory and give you updates as needed.

Order fulfillment:

We will quickly complete and deliver your orders to your clients.

Storage: In our two conveniently located warehouses, we will securely store your products.
Halfway between Chicago and Milwaukee, Mann Warehousing is conveniently situated near I-94 highway. We have 645,000 square feet of warehousing space that is perfect for storing whatever products and supplies you need to store.
Our Warehouse's Features & Benefits
Storage of dry goods, non-refrigerated food grade products, and other non-perishables
Over 645,000 square feet of inside storage
Computerized RF Inventory Management System
Real time, on-line viewing of customer inventory
Other specialized storage, shipping and logistic services as requested
Order fulfillment and direct shipping to customers available
Regional Transportation Services
Container loading and unloading